​It's that time of year again, and people are in a panic to find the right gift. A little bird statue for grandma, a new shirt and tie for the husband, a new toy for the nephews. All the years blend together with little variety. If you're one of the lucky ones, someone you care about knows you really well and knows exactly what to get. But this is a rare occurrence. Also, while people may enjoy the material things for a moment or two, they quickly lose appeal after the first time they use it or wear it.

This is why people seem to crave gifts that give them an experience. Imagine opening a gift of tickets to your favorite concert. Not only are you excited when you open the gift, you have something more to look forward to when you actually attend the event, and an experience to remember for years after. "Remember that time…" never gets old.

A study tells how people are more connected when they receive a gift of experience rather just some material possession.

"When recipients receive an experience, regardless of whether they share in that experience with the gift-giver, they feel more connected to the gift-giver as a result of it, compared to receiving a material gift." http://knowledge.wharton.upenn.edu/article/the-science-of-gifting-how-to-pick-a-better-present/

Think about the true reason that we give gifts. Is it to just buy a friend something or are you trying to create a relationship with them by showing you care? Isn't an experience a much better way to foster a relationship? Buy something that you can do together, how about a movie and dinner?

Some people have the logic that if you buy a material possession, something tangible like a couch, that it lasts longer than say a two week vacation, that is over and gone after the two weeks. But being exposed to the same thing, day after day, will quickly lose its charm. And couches do wear out. The latest iphone will soon become obsolete, maybe even before you actually take your vacation.

On the contrary, memories and stories become sweeter with time. Even a bad experience can be one that's fun to tell after the fact. When it rains for 7 days out of 10 days on your camping trip, you can still think about some fun times that you had. How about that one day when the rain finally broke, and we had a really great time playing volley ball on the beach in our jeans and sweatshirts. That was one cold July! And suddenly, what was negative at the moment, becomes a positive experience in the overall scheme of things.

Last year, I bought a trip for my kids for Christmas. A once in a lifetime experience… a trip to the NCAA Championship game. It's a gift that I will never regret buying. We got to visit Texas for the first time. We got to spend time together after the holidays were over and they got to experience their first dreamtrip.

​

Experiences are just more valuable than things!
Powered by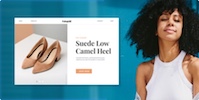 Create your own unique website with customizable templates.